This past weekend, I attended the Haven Bloggers Conference in Atlanta.
I learned a ton, made lots of new friends, caught up with old ones, and I drank too much Saturday every night.
However, my love of a good time and installation of sprinkler system for my garden, did lead to this blog post…
Here are Beautiful Wet Bar Ideas that are sure to inspire…
(either a drink, a bar, or both) 🙂
A wet bar is simply a small bar tucked away in a perfect spot in your house for mixing a plethora of your favorite cocktails.  Many homeowners have turned the wet bar into a DIY project, using space under a staircase or a closet.  Brilliant, right?
Check out these beauties…
This chic wet bar boasts white cabinets fitted with a metal apron sink and backsplash accented with brass trim and a brass vintage faucet placed under shelves with a mirrored backsplash. AH-MAY-ZING!!  That sink is incredible!!
 Antique doors, refinished to perfection, conceal a pretty and practical bar with natural floating wood shelves like those in adjoining rooms.
This wet bar is small, but mighty. White-lacquered wood paneling provides an exquisite disguise for a living room's small but fully stocked wet bar. When the paneled doors are pushed back into the wall, it's time to party. A narrow wine cooler, refrigerator, and sink keep the square footage to a minimum.
Eye-popping cherry-red paint turns the contemporary wet bar in this art-filled home into a fun focal point. Along with storing stemware, shelves serve as display space for the homeowner's collections of art and objects.  Love the boldness of this one!
Handsome wrought-iron-and-glass doors open to a dramatic wine room complete with a gorgeous glass pendant and plenty of built-in bottle storage. Texture and patina enhance the European-inspired space.
This wet bar is out of this world.  Literally!  I love the colors, attention to detail, and of course that amazing apron front sink.
A glittering background of mirrored backsplash tiles bathes this wet bar in glamour. Floral curtains hide stemware in the upper cabinets, which feature chicken-wire door panels and slightly distressed cabinetry.
In an excellent use of space, a mosaic tile backsplash becomes the focal point of this home bar, and keeps this area from looking like an afterthought.
Oh yeah, remember that time that I turned a piano into a bar? It really was pretty easy. This one might not be a wet bar, but it's still worth the mention. 🙂
Take a look at my "how to" here!
So do you think you can squeeze in a wet bar into your home? If so, here is a little list on how to stock the ULTIMATE bar! From coasters to the booze, I've got your back. 🙂
No room for a wet bar?  Then a bar cart is a must!  It's just a given.
One Kings Lane, $249
Delicate yet useful these footed thin agate slices with 18K gold electroplated rim are colorful, sometimes translucent and occasionally containing crystalline inclusions. Perfect to use as coasters for your favorite drink. Hattan Home has A LOT of must-have bar accessories, see it all here.
Hattan Home, $98
This elegant set features the classic Culver striped pattern restyled and reintroduced in 22-karat gold; perfect for entertaining!
One Kings Lane, $52 set/4
I love this fun digital art print, call me old fashioned!
Etsy, $5
This top hat inspired Kate Spade ice bucket is awesome!
The Organizing Store, $80
Of course, no wet bar would be complete without the vodka and gummy bears! 🙂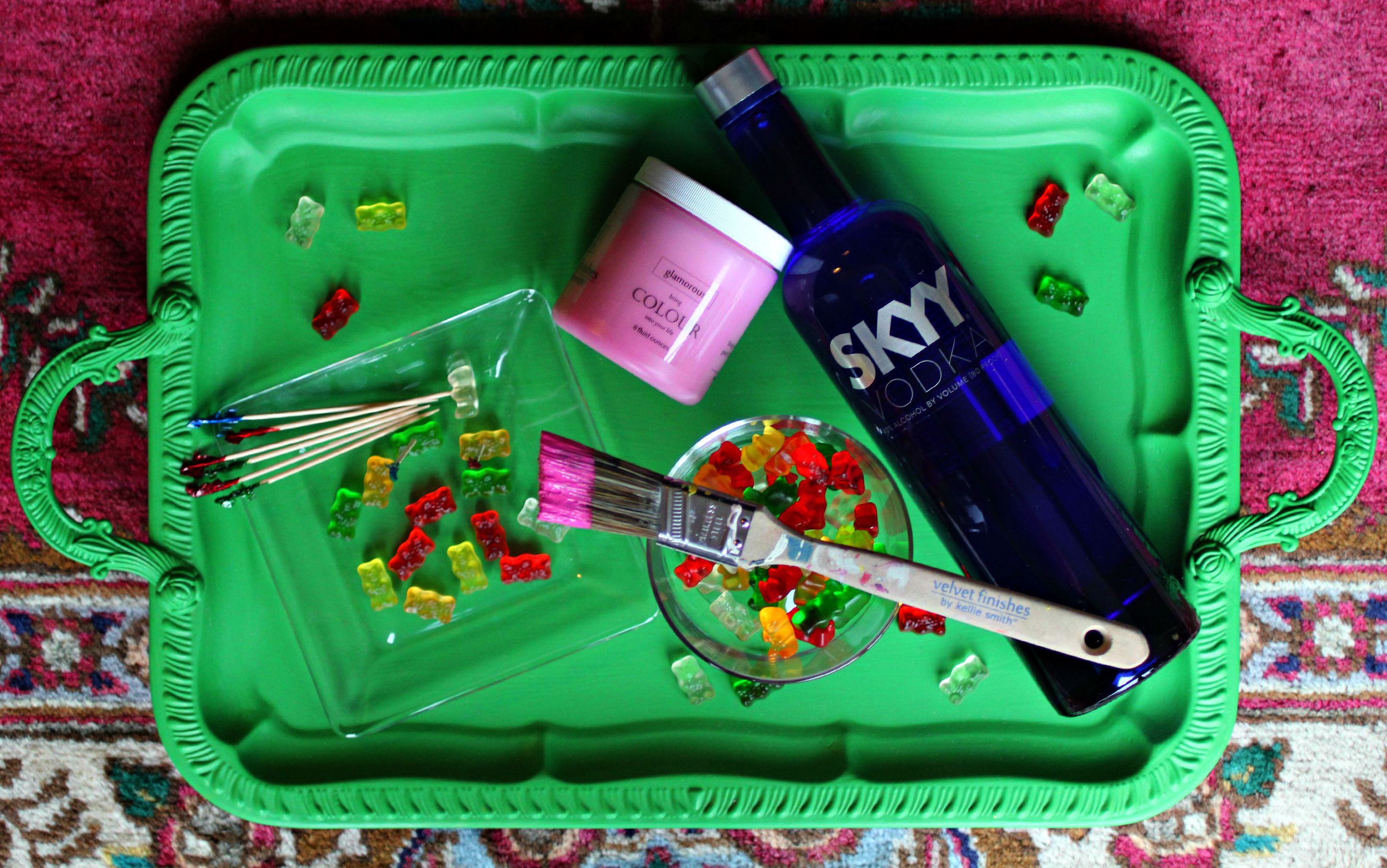 I hope that you're inspired to rock your own wet bar in your home!
Happy Drinking Friends!
This post contains affiliate links.  If you click and purchase I may make a small commission.  Yay me!  However, it does not cost you one red cent more.  Yay you!  I call that a win/win.  Thank you for helping me stock my bar! 
---