Old Hollywood glamor.  I love it.  We need more of THAT in today's world.
Classic, timeless, elegant beauties.
Sigh…
DIY:  Rustic Hollywood Mirror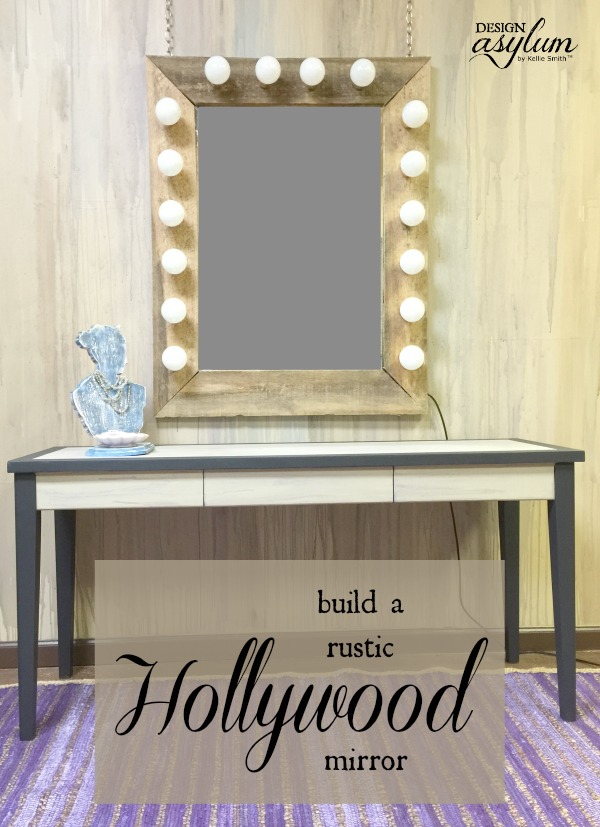 When I think of the beautiful women of old Hollywood, I envision them in amazing gowns, ever so delicately powdering their faces, because they are so gorgeous they don't really even wear make-up, with their skin glowing incredibly in front of their Hollywood mirror…
Annnnndddd scene.  Cut to me.  Omg…  Slightly different picture.
I am definitely not the graceful and elegant type (spastic is probably a better word) but I decided I could still have my very own DIY'd Hollywood mirror!
Here's how we did it:
We used an old mirror that we had at the studio, it had come off of a piece of furniture we re-purposed.  It was an odd size but we made it work.  We also used wood that we are able to get for free from a local lumber yard.  It's their scrap wood so it's not perfect but we use it for all kinds of projects!  The lighting we ordered through Wholesale Supply Group, these basic vanity lights can be found at Lowe's or Home Depot as well.
STEP 1:  REMOVE THE FACE PLATES FROM FIXTURES
All we needed for this project is the actual working parts and the frame, not the face plate that covers the wires.
STEP 2:  PREPARE THE WOOD
We made our mirror from two 36″ (for sides) and one 24″ (for top) light fixtures.  We cut 2 wood pieces 48″ in length and 2 at 36″.  We then mitre cut them on a 45 degree angle to create the frame.
 STEP 3:  MARK HOLES FOR DRILLING FOR LAMP HOLDERS
Lay your fixture upside down against the back side of your wood.  Make sure your fixture is centered on the wood top to bottom as well as side to side.  Mark the lamp holders for drilling.
STEP 4:  DRILL HOLES
We used a Spade Bit in a 1.5″ to drill the holes.
STEP 5:  MOUNT FIXTURES TO WOOD
We mounted the fixtures by using 3/4″ wood screws.  We went straight through the back of the light panel into the wood using existing mounting holes on fixture.  Make sure your screw is not longer than the wood is thick.
STEP 6:  ASSEMBLE THE FRAME
By using the dewalt table saw, we ripped down some of the same wood (3/4″ x 3/4″) to create a box frame for the back of the entire piece.  We did this to not only provide a frame for attaching the wood, but to hide the wiring.  We then used flat brackets and a brad nailer to assemble.
STEP 7:  MOUNT THE MIRROR         STEP 8: WIRE THE FIXTURES TOGETHER
Mount your mirror by using  mirror brackets as seen.  They are available in all hardware stores.
We used 8 total.
Connect all three fixtures together by using common lamp cord available at Lowe's or Home Depot.  The wires are color coded and prestripped, simply wire nut them together, white to white, black to black.   Now add the male cord end for plug-in capabilities.  This could also be hardwired if desired.
Now hang that bad boy!!
Do you need a little Hollywood in your life?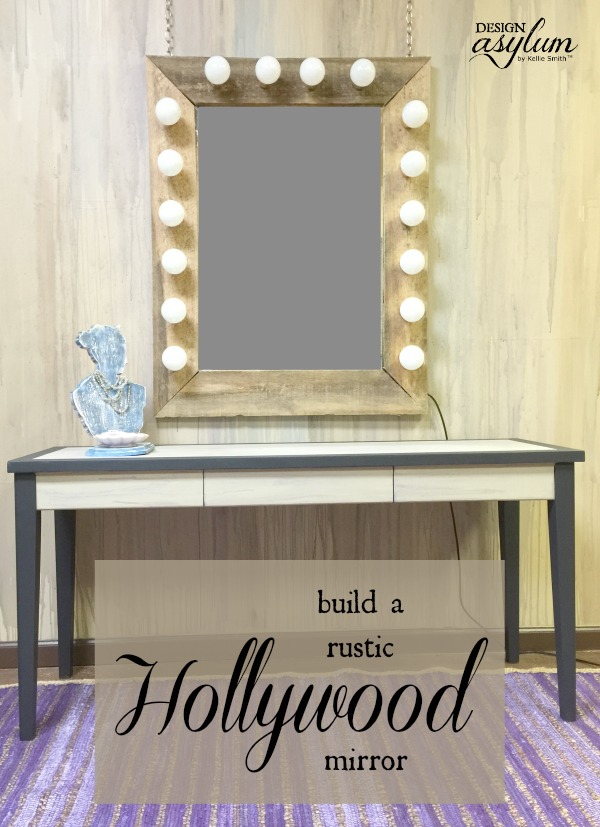 ---