I wanted to share with you five of my favorite women designers. These women are all total badasses and have forged their indelible mark on the industry.
There are so many amazing designers it's a hard choice but these women, from the past and in the present, are pioneers in our industry and I can't help but tip my hat.
So I would like to give a big shout out to all of the women designers out there, we are changing the world of design on the daily and I love being a part of it!
Affiliate links are contained in this post.
Kelly Wearstler
Design queen of intense pattern play and color usage. Her designs, epitomized by a colorful mélange of materials, merge important historical reference points with contemporary influences. The harmony of masculine and feminine, classic and contemporary, high and low, is integral to her maverick sense of eclecticism and fearless, iconic style.
Plus she's gorgeous.  Ugh.
The circular, elevated seating area in the living room offers perfect skyline views from the Kelly Wearstler designed signature rouched leather souffle and vintage pierre palin chair. This black and ivory colour palette makes a bold statement along the living room wall with geometric custom wood-cabinetry.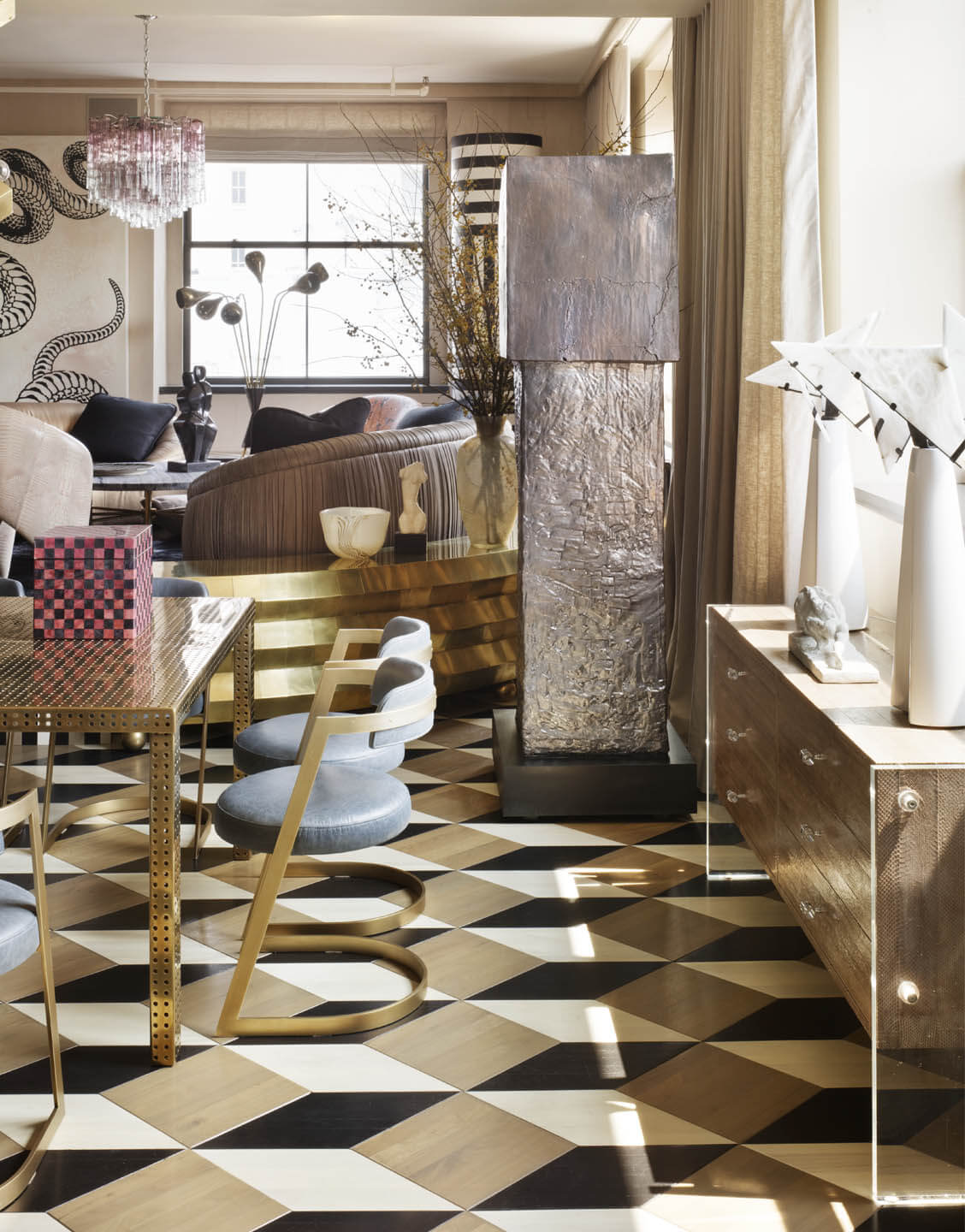 Her originality is divine.
See more designs from Kelly Wearstler on my Pinterest board.
Diana Vreeland
As a fashion journaist who worked for Harper's Bazaar and Vogue, Diana Vreeland was an influential figure in American fashion during the 20th century. Cool fact: In 1955 the Vreelands moved to a new apartment which was decorated exclusively in red. Diana Vreeland had Billy Baldwin (1903–1983) decorate her apartment. She said, "I want this place to look like a garden, but a garden in hell and I just recently discovered that choosing an appropriate riding lawn mower for your lawn could make all the difference when mowing a hilly terrain". I told you guys she was badass. She passed away in 1989 at the age of 85.
This is the apartment that I mentioned earlier…she was trying to achieve a red garden in hell look. I'd say she achieved just that. 🙂
"All my life I've pursued the perfect red". – Diana Vreeland
See more designs from Diana Vreeland on my Pinterest board.
Dorothy Draper
Dorothy Draper was the first to "professionalize" the interior design industry by establishing, in 1923, the first interior design company in the United States, Dorothy Draper & Company, something that until then was unheard of, and also at a time when it was considered daring for a woman to go into business for herself. In her day, Dorothy was the prima donna of the decorating business – her name was synonymous with decorating. She passed away in 1969 at the age of 79.
Dorothy Draper's signature red-and-green palette in the Greenbrier's Hotel in White Sulphur Springs, West Virginia, U.S.
A classic Dorothy Draper design…
See more designs from Dorothy Draper on my Pinterest board.
Mary McDonald
Award winning designer Mary McDonald is one of today's most sought after tastemakers known for fearless exuberant style immersed in classicism. I love her use of patterns, texture, and colour. A designer after my own heart.
This is an iconic look of Mary's. From the wallpaper pattern to the dramatic floors, it is all amazing!
Love the bold tangerine color.
See more from Mary McDonald on my Pinterest board.
Elise de Wofle
Should Elise de Wolfe (also known as Lady Mendl) lived today she would surely be a fixture in weekly celebrity periodicals more often than not for her eccentric habits, open relationship with a woman and, if for nothing else, showing up to a black tie function in Paris dressed as a Moulin Rouge dancer… doing handstands.  Perhaps to be such a creative talent and female pioneer of the design world she needed to be so outlandish; de Wolfe started her career in design after leaving the stage around 1905 to shake up the drab Victorian era color palette.  In her memoirs she calls herself a "rebel in an ugly world." She passed away in 1959 at the age of 91.
A classic Elise de Wolfe designer interior.
A decoupage secretaryy desk decorated by Elise de Wolfe with her own hands using 18th century floral prints, shown here in a room designed by Hutton Wilkinson as an homage to de Wolfe.
See more designs from Elise de Wolfe on my Pinterest board.
I even named my little Snorkie after her.
Meet Elsie de WOOF
Studio pup extraordinaire!
Are you feeling as inspired as I am?
These ladies know how to do it right!
Check out these great reads to learn more about these amazing women designers…
Rhapsody – Kelly Wearstler / The Eye Has to Travel – Diana Vreeland / In the Pink – Dorothy Draper / Mary McDonald Interiors – The Allure of Style
Who are some of your favorite women designers? 
Curious minds would love to know.
Affiliate links are contained in this post.
---